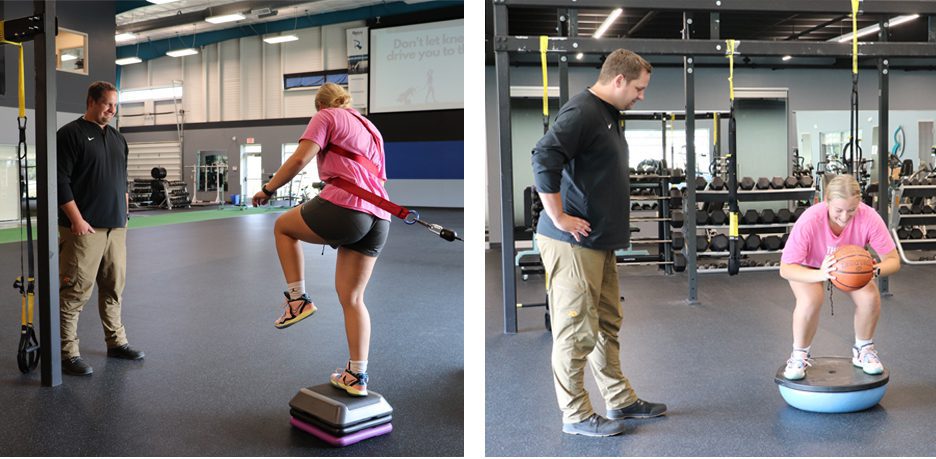 My name is Karley Loven. I am from a small town 45 minutes north from St. Cloud. Late September of 2022, I tore my ACL in a 3-on-3 basketball tournament. Getting the MRI back was the worst news I've received because playing sports with my friends is my biggest passion. I knew this injury was going to be a mental battle along with the physical side of things.
I came to Rejuv Medical to start pre-therapy before surgery. Late October I had my surgery and everything went well. After surgery I went to Rejuv for therapy twice a week. I hated the beginning of therapy because I wanted to be active and be independent again but it took me a while to get there. When I couldn't do things on my own, I was really negative towards myself. I was progressing really well with strength but I had a hard time getting my extension back so we spent months in therapy working on that and it was so frustrating having good days then being stiff the next day and having to start all over again. Then around month four I was dealing with a lot of pain. We had to slow everything down and go back to square one. I was so frustrated with myself. I struggled with comparison, a lot, because I had four friends also going through the same recovery and they were way ahead of me. I continued to get angry with myself because I wasn't further along than what I should have been. It took about a month to get back on track which was a huge setback.
In late April it was time for my six month post-op appointment with my surgeon. We did some testing to see where I was at and my surgeon cleared me for lifting and shooting hoops again. I was so excited for this. I told him I wanted to be cleared before volleyball season so we scheduled my nine month appointment at the beginning of July.
This meant I had about three months to really work my butt off. I was so determined to get back.
The Rejuv physical therapy team and especially Nick Wittrock really pushed me hard once a week. They believed in me and were always there to support me. Eventually July came and we all knew I wasn't ready yet so we pushed the date back another month to August. This was really hard for me but I just kept working hard. The week before my test I went to therapy and we did some practicing. Afterwards, I didn't have high hopes for my test. I felt unstable and just not strong enough yet but we went to see my surgeon so I could test. The whole time I was super nervous but while I was doing the exercises I felt really good. I shocked myself with how good the test went. We went back up to the room to go over the numbers and he cleared me to go back to sports. It was the most amazing news to hear after all the sweat and tears put into this recovery.
Now, I am currently back to playing volleyball and I feel good. This recovery helped me learn so many things. I can now say that I did make it through the other end because I worked hard for myself and to always be grateful for what I have because one day you might not have it again, so give it everything you have. I am so grateful for the people around me that showed continuous support such as my family, friends, community, and especially the Rejuv Medical team. I looked forward to driving 45 minutes twice a week to see all the kind smiles around me cheering me on. The front desk always said, "Hey Karley," and checked me in right away. Then I would walk into the therapy room and always get involved in the silly jokes or pranks being played. I felt at home with the people around me. I went to therapy for 11 months and every team member made me feel like a part of their family. Whenever the journey was tough they would always find a way to make me smile and I am forever grateful for them.