Our Motto
 Innovation | Integration | Optimization
Our Mission
Restoring Health Worldwide
Our Core Values
To restore the body through evidence based treatments and reverse the impact of disease and degeneration.
Our attitude, behavior and decisions are guided by our Core Values and faith based morals.
TEAM REJUV.
Virtuous: We check our egos at the door, we are humble and loyal to each other as we listen and create a unified synergy with patients and our team.
Brilliant: We are unique pioneers. We are growth minded and strive for excellence.
Results: We are here to change healthcare by restoring health and vitality in our patients.
Our Team
Non-Surgical Orthopedics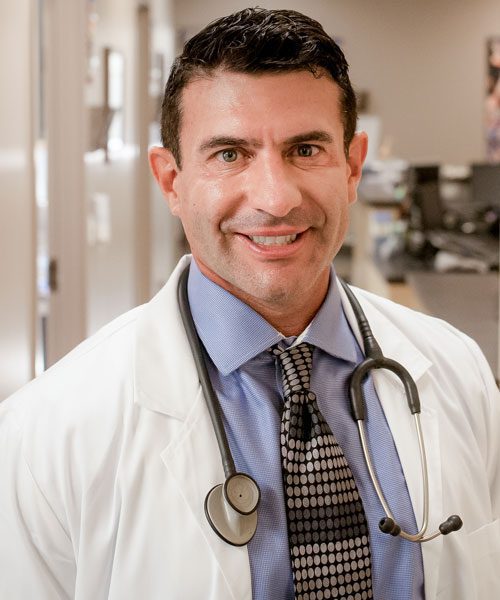 Joel Baumgartner, MD & CAQ Sports Medicine
Board Certified in Family Medicine & Non-Surgical Orthopedics & Sports Medicine
View Profile
Dr. Joel Baumgartner is a board certified physician with a specialized fellowship in non-surgical orthopedics and sports medicine. He earned his medical degree from the University of North Dakota School of Medicine, and completed his family practice residency at the University of North Dakota. Dr. Baumgartner completed his advanced training in sports medicine with a fellowship in primary care sports medicine at Hennepin County Medical Center. He utilizes the latest in diagnostic and treatment technology to better treat musculoskeletal injury and pain. As an international speaker, he instructs both physicians and those in the medical industry on pain evaluation, diagnosis and the latest treatment options. Dr. Baumgartner has authored a book on Prolotherapy and PRP technique, He is also a contributing author on the subject of pain management for a variety of other popular publications. His family and faith remain his priority.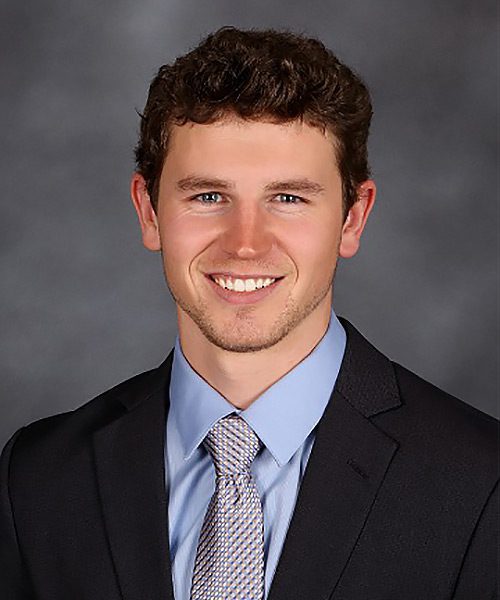 Matthew J. Janzen, MD
Physical Medicine and Rehabilitation Physician
–
View Profile
Dr. Matthew Janzen is a Physical Medicine and Rehabilitation physician specializing in pain management. Dr. Janzen began his medical journey at the University of Minnesota where he obtained his Bachelor's of Science in Genetics and Neuroscience before he attended the University of Minnesota Medical School where he received his MD. He spent his Intern year after medical school training at Broadlawns Medical Center in Des Moines, Iowa. After his Intern year, he spent the next 3 years completing his Physical Medicine and Rehabilitation residency at Tufts Medical Center in Boston, Massachusetts. Following residency, he completed an Interventional Pain Management fellowship at Deuk Spine Institute in Melbourne, Florida. Dr. Janzen's skills include: pain management, peripheral nerve blocks, joint injections, and all types of therapeutic and diagnostic spinal injections. He believes in taking a patient centered, multidisciplinary approach to optimize patients' health and quality of life. Dr. Janzen is a Minnesota native whose family and friends are what drew him back from the east coast. Dr. Janzen loves all water sports in the summertime, alpine skiing in the winter, and traveling to new places in between.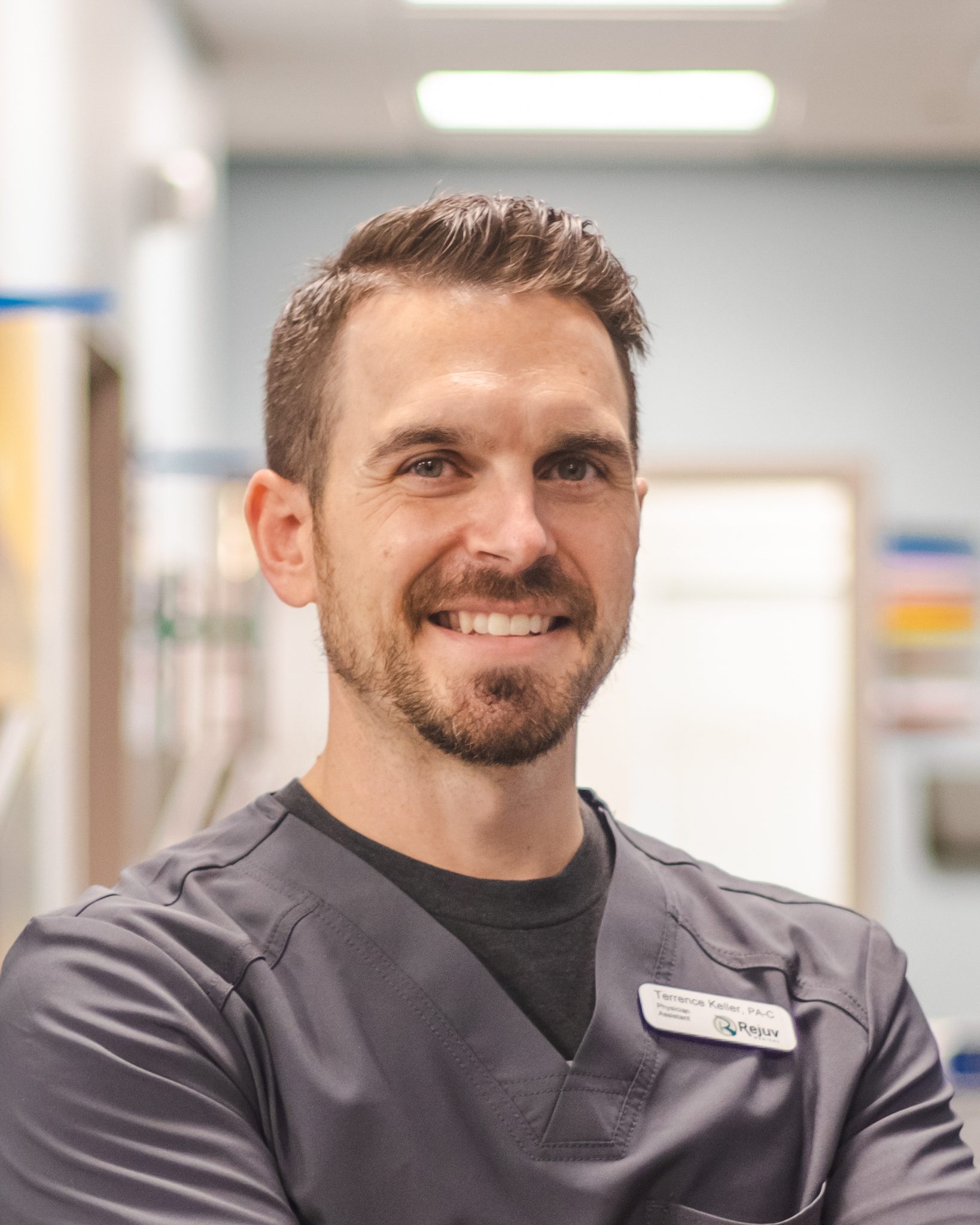 Terrence Keller, PA-C
Certified Physician Assistant
View Profile
Optimizing patient health and functionality through an integrated approach is what really drew Terrence to Rejuv Medical. Originally from North Dakota, Terrence completed Bachelor's degrees in Athletic Training and Exercise Science at Minnesota State University Moorhead. While working for 7 years as an athletic trainer and sports specialist, he pursued a Master's degree in Physician Assistant Studies at Augsburg College in Minneapolis.
He worked the past 5+ years in an acute care setting in Fergus Falls, MN. While enjoying seeing patients in this capacity, he knew there was something missing. With the orthopedic background, he has always kept this field in the back of his mind. "I cannot believe how lucky I was to find an organization at the cutting edge of technology while improving healthcare from its source, the patient." He is looking forward to working with patients to Rejuvenate their health.
Terrence loves spending time with his family. He is married with two children and several pets. They enjoy living life spontaneously to take in all the beauty this world has to offer. He is also a functional fitness enthusiast, learning the capabilities of his body while optimizing his nutrition and workload.
Primary Care & Functional Medicine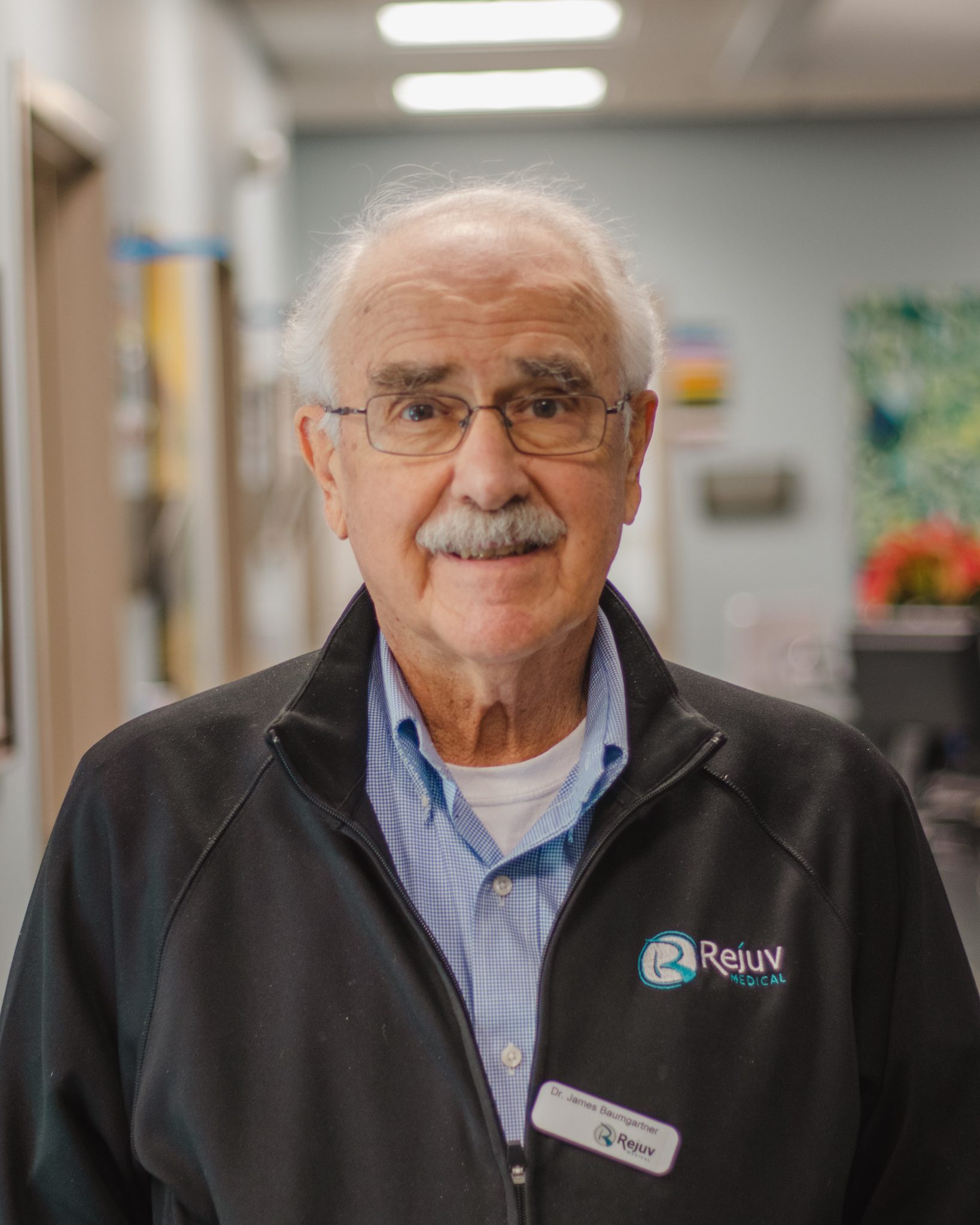 James Baumgartner, MD
Board Certified in Internal Medicine
View Profile
Dr. Baumgartner is a board certified Internal Medicine doctor with over 30 years of experience and 10 of those years in the St. Cloud area at the former Allina Medical Clinic. If you're looking for a new Primary Care physician or have Urgent Care needs or suffering from issues with sleep, headaches, obesity/weight management, skin irritations, mental health, wellness, disease prevention/management, or other ailments, Dr. James Baumgartner is here to help. He takes a personalized care approach that is essential for best outcomes. Dr. Baumgartner will also be working with our talented and passionate Nurse Practitioners, Health Coaches and Medical Fitness Specialists at restoring your health.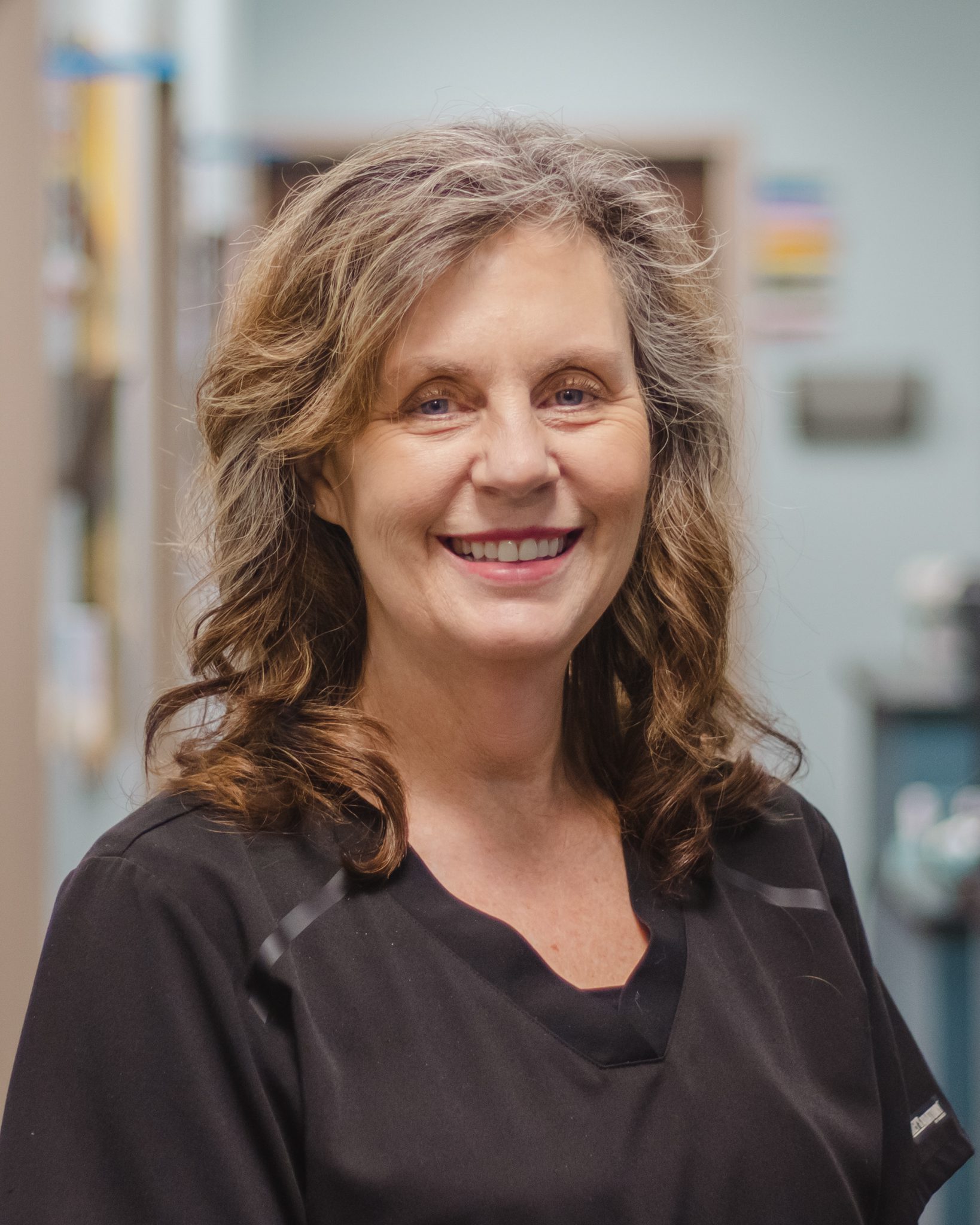 Valerie Carlson, RN, CNP
Certified Nurse Practitioner
View Profile
Valerie Carlson is a certified nurse practitioner who is interested in improving quality of life for her patients' through functional medicine. Valerie has over two decades of nursing experience, and obtained her Bachelor and Master's degrees of science in nursing at Mankato State University. Valerie has been an active member in her community leading groups such as Campfire Boys and Girls, reading groups for elementary school students, chaperoning youth mission trips to Maine and Arkansas. She also chaperoned youth trips to Long Lake Conservation Center and Wolf Ridge Conservation Center. She participated in the M.S. tram Minnesota, biking 300 miles in 5 days. Valerie Carlson's background includes geriatric nursing, telemetry and ICU RN experience. She spent close to a decade as a nurse practitioner in cardiology, specializing in cholesterol, and primary and secondary cardiovascular prevention. She brings this previous knowledge and experience to Rejuv medical to enrich her functional medicine practice. At Rejuv Valerie Carlson sees patients for hormonal balancing, fatigue, and those who would like to improve their health with weight loss. Valerie sees patients who struggle primarily with:
• Chronic stress and stress-related health problems
• Fatigue or Lack of Energy
• Muscle and Joint Pain or Weakness
• Blood Sugar Dysregulation
• Osteopenia or Osteoporosis
• Insomnia, sleep disturbances or difficulty waking
• Poor memory or difficulty retaining information
• Irritability or Mood Swings
• Hypertension
• Increased waist-to-hip ratio or abdominal obesity
• Anxiety or depression
• Menstrual Disorders
• Postmenopausal Symptoms
In addition to hormone and adrenal function, she also assists patients with Weight loss Physicals or Prescreening.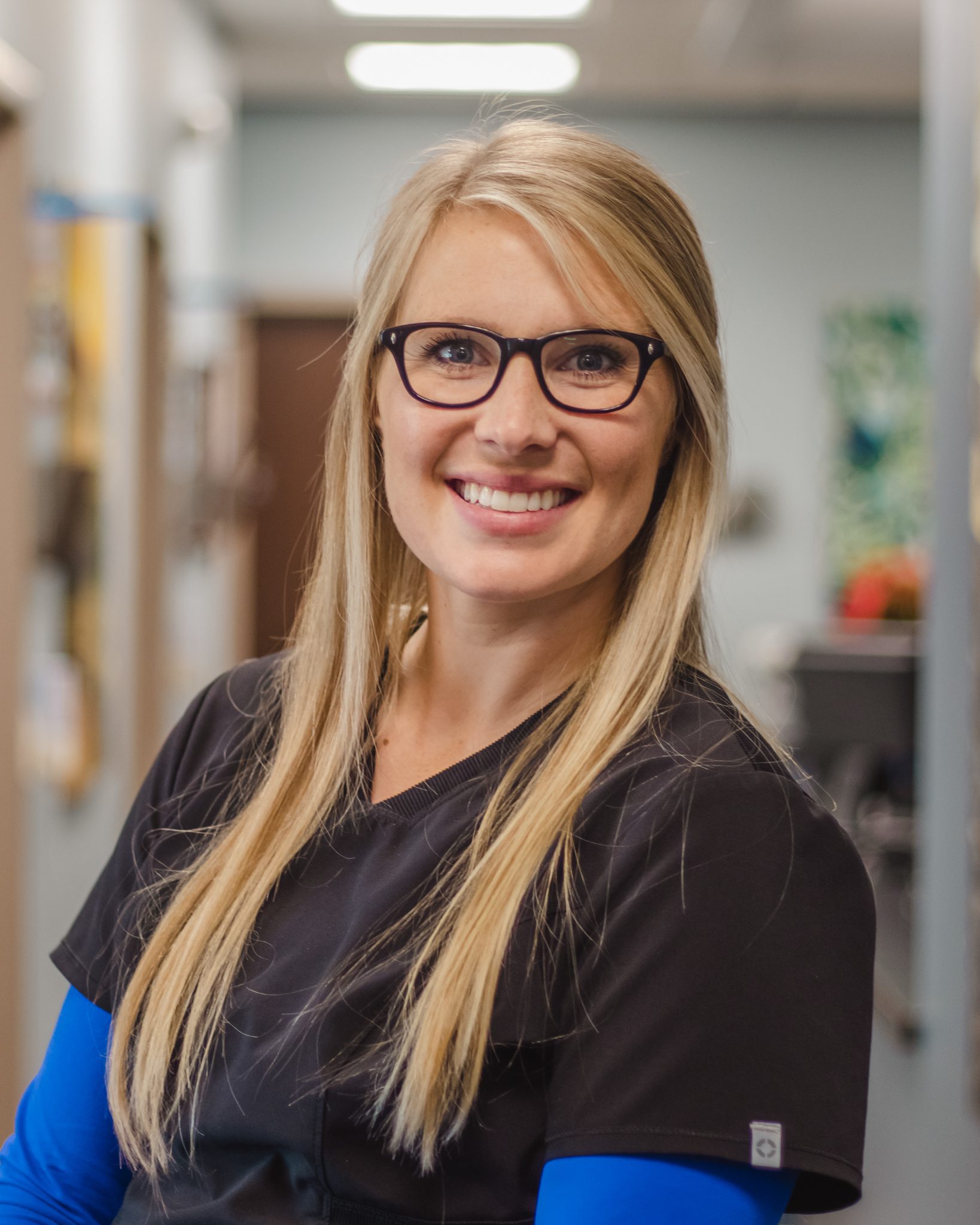 Paige Deters, PA-C
Certified Physician Assistant
View Profile
Paige received her Physician Assistant Certification through Bethel University, MN. What brought her interest to Functional Medicine is the patient-centered care that integrates physical, spiritual, mental, and emotional health while incorporating the importance of lifestyle. She enjoys working with individuals of all ages, helping them reach their goals by providing the necessary care, education and resources. She grew up in the Swanville and Little Falls area and now lives in Rice with her husband, Andrew. She has been a competitive athlete through college and is active in softball, basketball, and outdoor activities. With her family and friends, she enjoys hunting, cross country skiing, and traveling to explore, backpack, and volunteer through mission work. Other hobbies include wood working, camping, strength and resistance training, and cooking.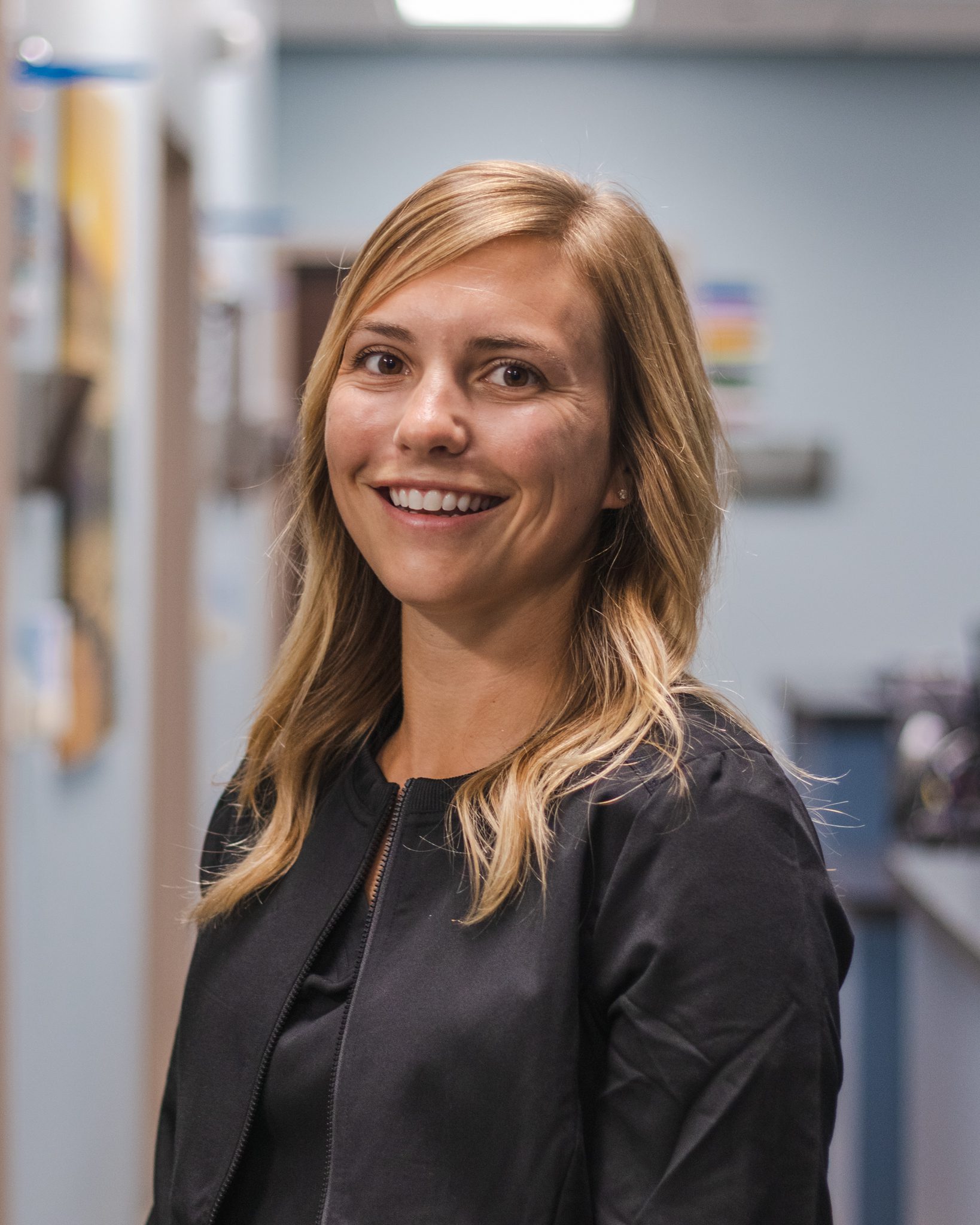 Shelby deitchler, DNP, CNP
Certified Nurse Practitioner
View Profile
Shelby is a Certified Nurse Practitioner specializing in Functional Medicine. Prior to obtaining her Doctor of Nursing Practice from The College of St. Scholastica, she obtained a Bachelor of Science in Kinesiology from The University of Minnesota and a Bachelor of Science in Nursing from The College of St. Scholastica. Before coming to Rejuv Medical, Shelby gained experience as a personal trainer, group fitness instructor, and Director of Operations at a gym. Upon completion of nursing school, she went on to gain nursing experience on a neurological-trauma and ICU stepdown floor.  
Shelby's passion for functional medicine began when she started seeing her gym clients improve their health through lifestyle changes. They felt better, had improvements in their lab results, were able to come off medications, and were able to accomplish things they did not think were possible. This was so inspiring to Shelby that she knew she had to further her education to make an even bigger impact on each one of her patients lives.  
Shelby appreciates having the opportunity to practice functional medicine where she can be a partner in her patient's health care to help them achieve their goals and optimize their health, remembering that each patient has their own unique story and needs. She enjoys taking a deeper look into the root causes of symptoms and diseases, focusing on the "why," while supporting the natural healing abilities of the body to improve these underlying causes to help her patients live their healthiest lives.  
Shelby's hobbies include spending time with her husband, Jake, and their three children. She enjoys staying active, being at the lake, being outdoors, spending time with family, attending her children's sporting events, and most of all, traveling anywhere warm!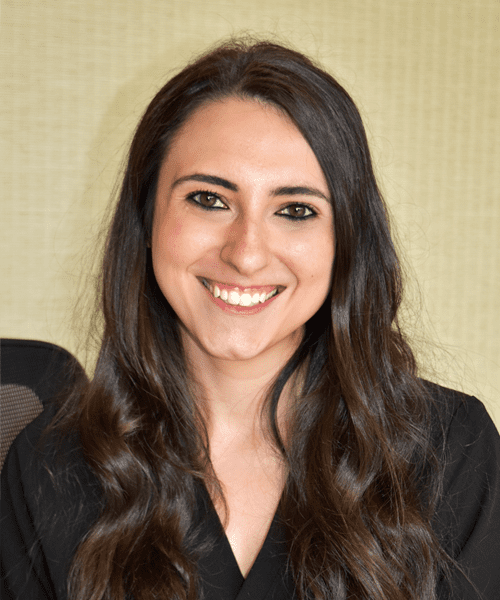 Chelsey Haust, DNP, CNP
Certified Nurse Practitioner
View Profile
Chelsey is a Certified Nurse Practitioner specializing in Functional Medicine. She is passionate about taking an integrative approach to healing. She attended The College of St. Scholastica for her Doctor of Nursing Practice and has a Bachelor of Science in Nursing from St. Cloud State University. Chelsey has several years of nursing experience working on the Surgical floor of the St. Cloud Hospital. 
Chelsey's passion for functional medicine came from her own experience working with a functional practitioner and seeing how the body can innately heal itself when given the right support. She provides care that is aimed specifically at getting to the root cause of a patient's dis-ease to help restore their health and vitality. 
Chelsey enjoys spending her free time soaking up the moments as a new mom with her husband, Jeremy. Her hobbies include hiking, reading, and spending time on her parent's and in-law's farms.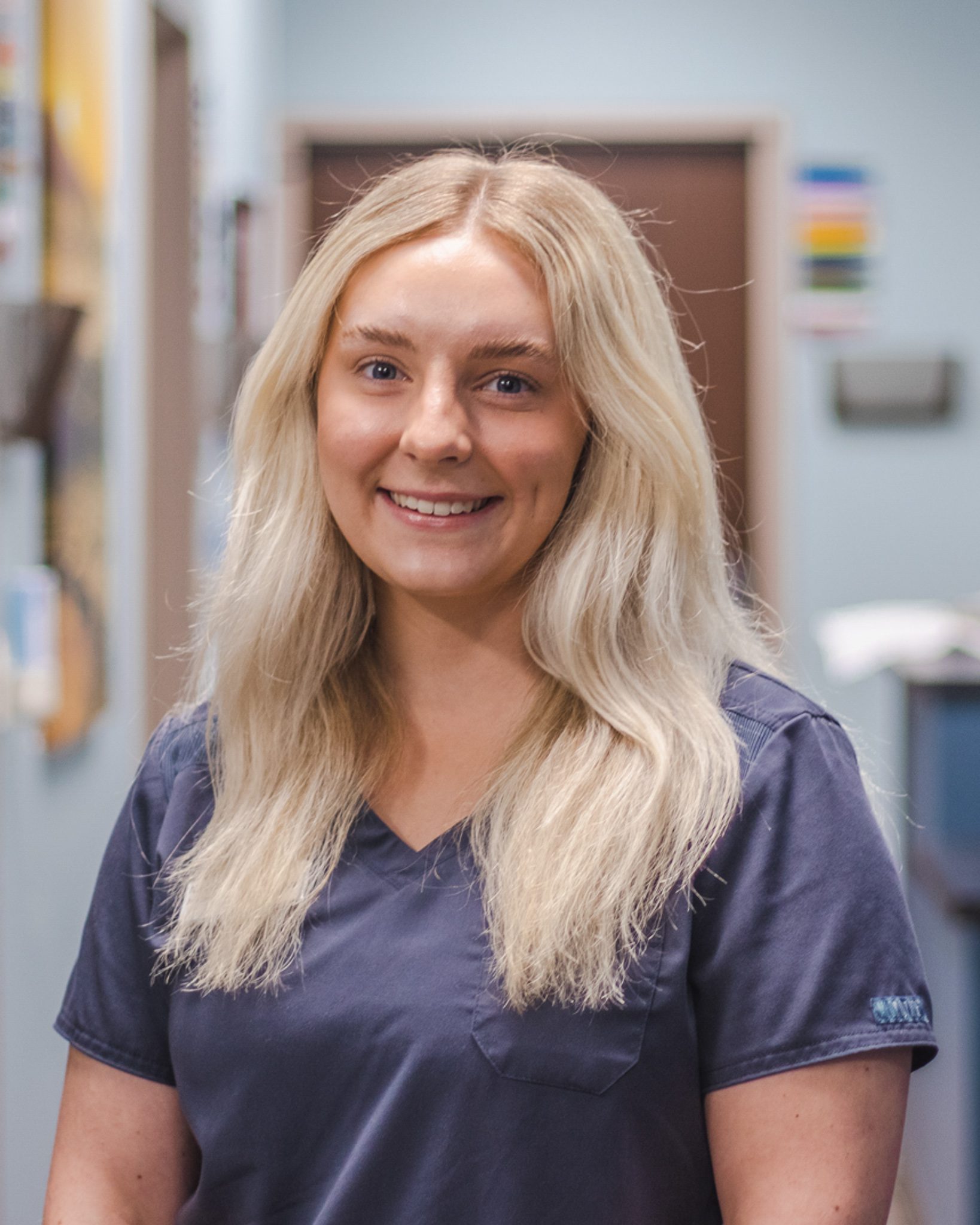 View Profile
Meredith studied at the Salon Professional Academy in Fargo, North Dakota, where she earned her license in Aesthetics.  She pursued her career in Aesthetics for 4 years in Fargo, specializing in medical Aesthetic treatments.  She then moved to St. Cloud and obtained her dual licensure in Minnesota.  When Meredith isn't seeing patients here at Rejuv, she can be found enjoying time with family, taking in the outdoors, and traveling with her husband Jon.  
Brittney Braegelmann, PT, DPT, SCS
Board Certified Sports Physical Therapist & Department Director
View Profile
Brittney received her undergraduate degree from the College of St. Benedict, majoring in Psychology with a Sports Medicine minor. She earned her Doctor of Physical Therapy degree from St. Catherine University. She worked in Duluth, MN after graduation at Essential Health-West Duluth Clinic. After moving to the Twin Cities, she graduated from the Fairview Sports Physical Therapy Residency Program and upon graduation, she treated patients at University Orthopedics Therapy Center in Minneapolis, where she specialized in the Throwing and Next Step Programs. She obtained her Physical Therapy Sports Clinical Specialist Certification in 2013. She has worked at Rejuv Medical in Waite Park, MN since moving back to the St. Cloud area.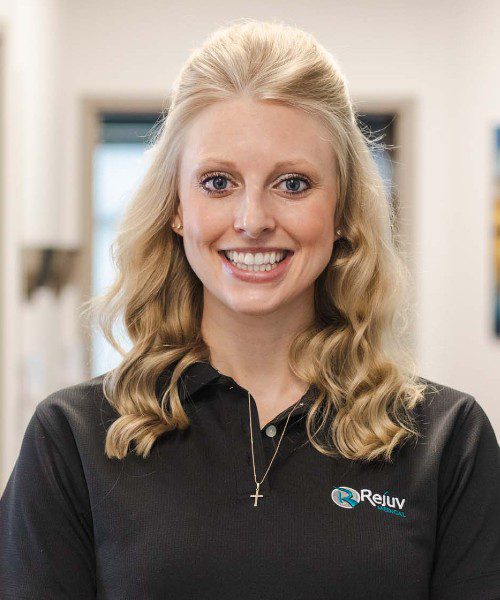 View Profile
Shelby received her undergraduate degree from the University of Wisconsin – La Crosse, majoring in Exercise and Sports Science; she then earned her Doctor of Physical Therapy degree from the University of Jamestown. Following her graduation, she worked in Paynesville, MN at the CentraCare-Paynesville Clinic. She has a diverse experience with outpatient adults and pediatrics, athletes, hospital, and nursing home patient populations. She is passionate about the profession of Physical Therapy and wishes to continue to deliver individualized patient-centered care.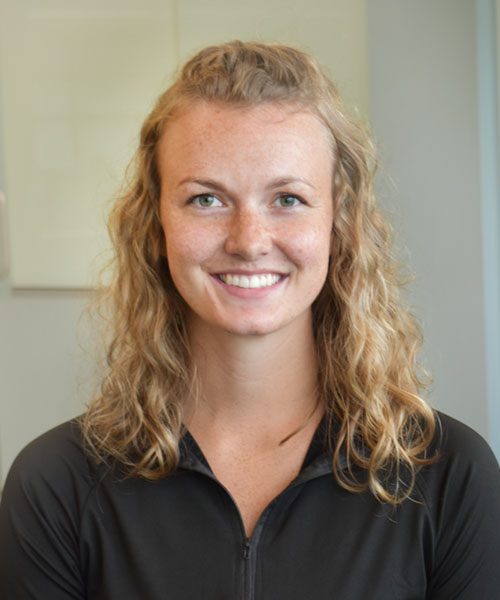 View Profile
Kaci has been working as a therapist for the last three years after graduating from the University of North Dakota with a Doctorate in Physical Therapy in 2020. Prior to moving back to the area, she partnered with a few dance studios in Bismarck, ND to foster healthy movement patterns, treat overuse injuries and prevent potential future injuries. Overall, she enjoys treating all kinds of injuries no matter how long a patient has been suffering, and is always willing to do everything to get you back to your specific goals!
When she is not working, she likes to be very active. From working out to playing volleyball, softball, rollerblading and hiking, there really isn't much she won't do! She likes to spend time with friends and family, cooking, reading and trying new hobbies. But all in all she had a passion for making people feel better, whether it's working as a physical therapist, or just putting a smile on people's faces.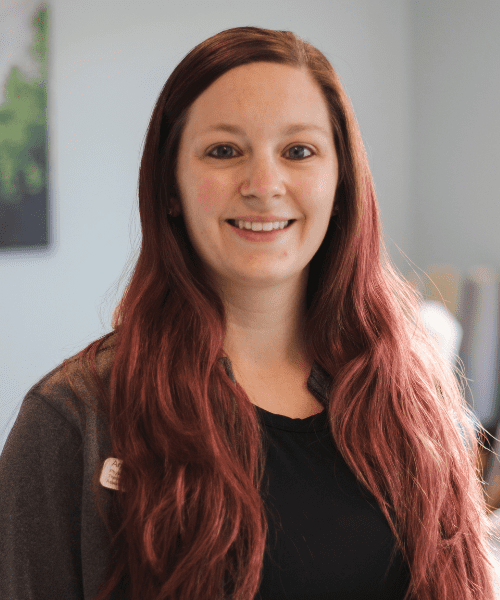 Angie Joki, PTA
Physical Therapist Assistant
–
View Profile
Angie is a Licensed Physical Therapist Assistant and received her Physical Therapist Assistant degree from Anoka-Ramsey Community College in 2014. She has been working at Rejuv Medical ever since.  Angie is trained in all types of patients but has a special interest in dancers, swimmers and pediatrics, due to the fact that she was a dancer and swimmer all throughout life. She has also been trained in kinesio-taping which she utilizes with many patients. Angie loves the connections that she gets to make with patients everyday and watching them better themselves.
Outside of Rejuv, Angie is a wife, mom of 3 and a dog mom. She also has been a dance teacher/coach for the last 14+ years. She enjoys spending time with her family, being outside or at the beach and making people laugh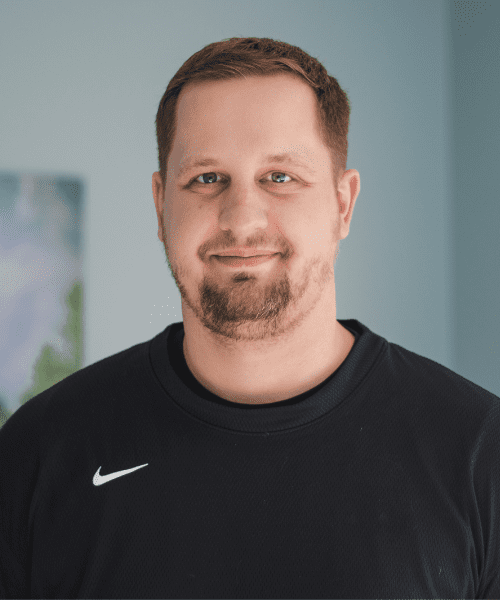 Nick Wittrock, PTA
Physical Therapist Assistant
View Profile
Nick graduated from St. Cloud State University with a Bachelor of Science in Recreation and Sports Management. During that time, Nick was a student assistant coach with the women's basketball team at SCSU. Upon graduation, Nick worked with local high schools and community education programs in coaching and coordinating events in Minnesota.
Nick returned to school and completed the St. Catherine University's Physical Therapist Assistant Associate's Degree in Minneapolis/St. Paul. Following this, Nick worked at an outpatient clinic in Sartell before accepting a job offer with Rejuv Medical and has been here since 2019.
You can often find Nick and his wife, Laura, within the community, spending time with family and friends. Nick is passionate about basketball, bowling, hunting, and bettering his patients in an integrated healthcare approach. In the future, he hopes to continue his education and complete his Doctor of Physical Therapy to be a better advocate for his current and future patients.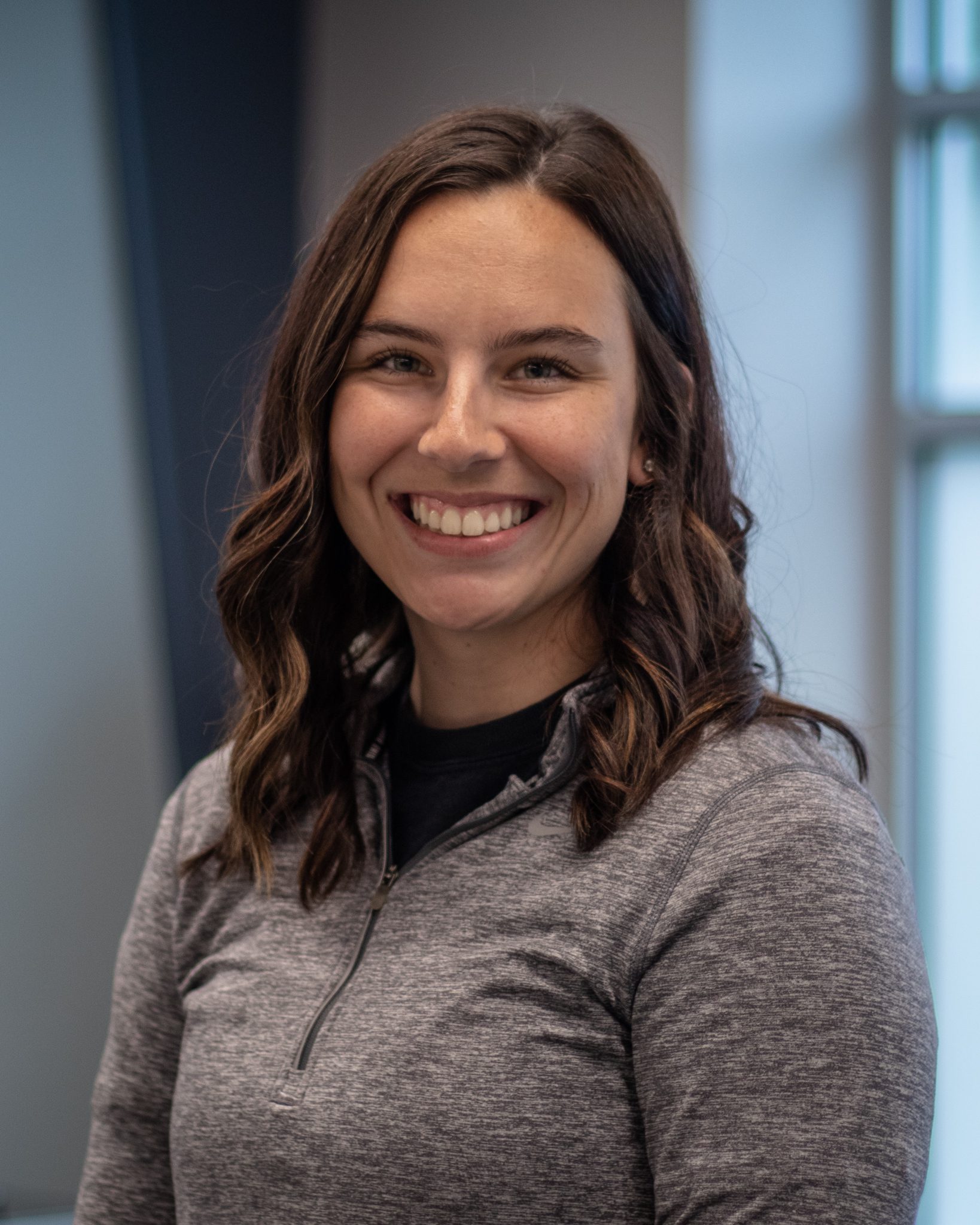 Maggie Bentley, PTA
Physical Therapist Assistant
View Profile
Maggie is orginally from Nebraska where she graduated from Nebraska Methodist College and received her Physical Therapist Assistant degree. She moved to Minnesota shortly after graduating and came to Rejuv! She was very active growing up but had multiple injuries herself, leading her to Physical Therapy. She has a deep passion for physical therapy and helping people reach their goals daily! 
Outside of Rejuv, Maggie is traveling often around the country Drag Racing with her family and boyfriend, Jordan. She loves to make trips back to Nebraska when she can to spend time with her family as well. She likes to stay active and looks forward to exploring Minnesota more!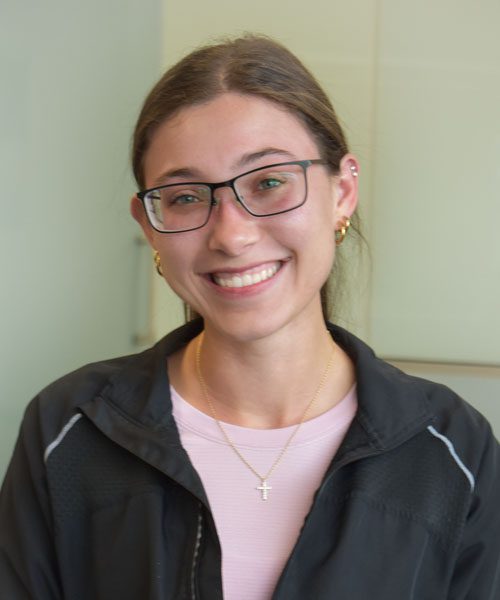 Lauren Boyer, PTA
Physical Therapist Assistant
–
View Profile
Lauren is from Richmond, MN, a small town southwest of Waite Park. 
In May, 2023, she graduated with a bachelors degree in Exercise and Health science from the College of Saint Benedict and will be pursuing a career in Physical Therapy after gaining experience during her gap year here at Rejuv. 
Lauren enjoys anything outdoors while she's not working. She likes everything that keeps her busy, including going fishing with her fiancé, spending time on the lake at her parent's cabin, and reading.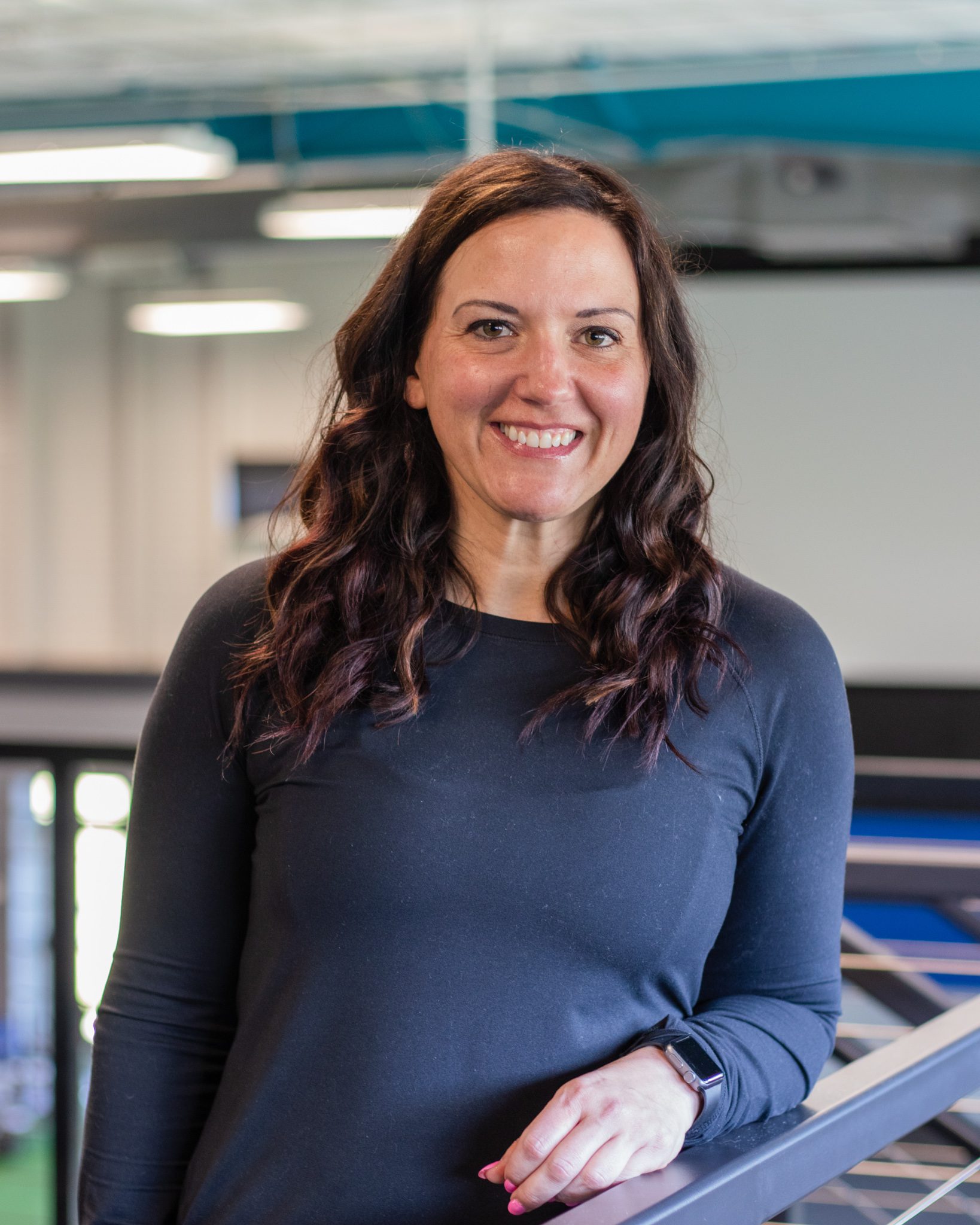 View Profile
Daina has 20+ years of experience in the wellness industry along with a background in Advertising. 
After receiving her Personal Training and ACE Group Exercise credentials, Daina found passion in coaching classes small and large for well-known area wellness centers.  She earned her CrossFit Level 1 & Judge's Certificate to coach at local boxes and was chosen to judge top performing world athletes at the CrossFit Regionals and National Games Competitions, in Nashville, TN and Madison, WI. 
Daina obtained her 200 Hour YTT in Vinyasa through CorePower Yoga, Minneapolis, and is a Trauma Informed practitioner by Firefly International.  As a certified teacher of Mindfulness Meditation through Breath of Life Yoga Studio, St. Paul, Daina has a longstanding practice of insight and loving-kindness, and has dedicated much of her career to helping those struggling mentally and emotionally achieve greater well-being, centeredness, and compassion. 
Daina has completed a full Marathon (ONE was enough!) and several half marathons. Her ability to teach just about every format from Aqua Fitness to Indoor Cycling has presented opportunities for her to travel the globe as a guest fitness instructor to destinations such as Cancún and the Dominican Republic.  
In 2017, Daina founded a local Fitness/Yoga studio in Central MN which she fondly operated for 4 years.  The studio continues to successfully serve the community as a safe space for folks to exercise and practice yoga. 
Leading up to the pandemic, Daina received her Lifestyle Wellness and Nutrition Coach Certs and was also contracted to guide Meditation in large Corporate Wellness settings.  Sometimes leading mindfulness classes with 100+ executive professionals in attendance nation-wide. 
Daina brings her knowledge by holding space and working alongside folks to help them reach their personal goals, particularly through the lens of mindfulness. Fitness and Yoga have been a game changer for Daina and the thousands of students she's coached over the years.  Her invite for Rejuv members is one of empowerment, peace, positivity and fun! 
Daina will be assisting in the every day duties of managing the gym, overseeing group fitness, and coaching classes.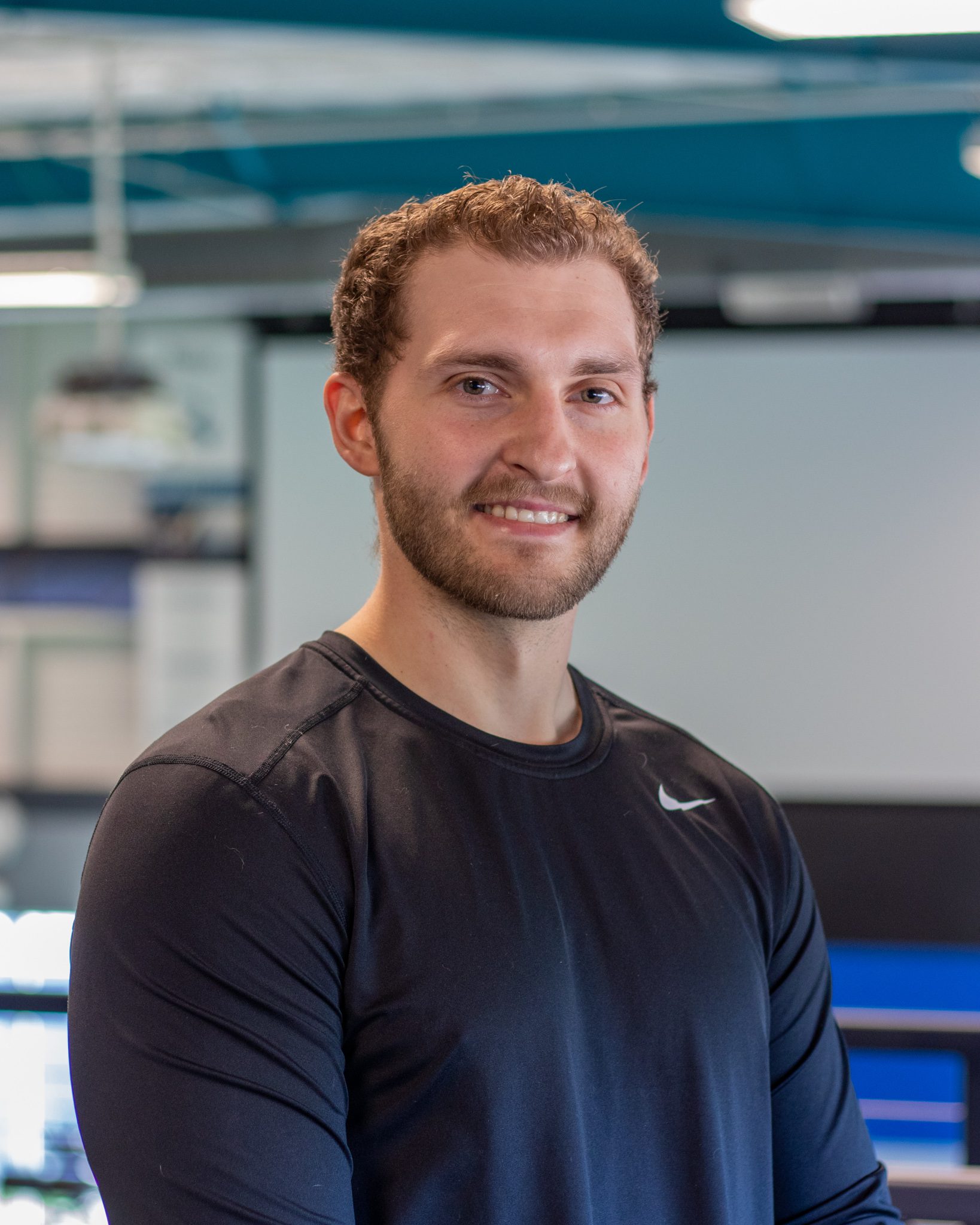 View Profile
Tyler was born in St. Cloud, MN, grew up in Gilman, MN and attended Foley High School where he was a 3 sport athlete (Basketball, Baseball, Football). After graduating from Foley High School, he attended the University of Jamestown to earn his Bachelor's Degree in Kinesiology. Tyler played college basketball for two years at the University of Jamestown before transferring to the University of North Dakota. He earned his Bachelor's of Science Degree in Kinesiology in 2017.
Tyler has been working in the fitness industry for over 5 years. Much of this time has been spent within management of the Corporate Wellness world. He enjoys working with clients of all levels to achieve their health and wellness goals.  Tyler's training consists of functional movements, athletic performance, and compound based movements. In his free time, he enjoys spending time with his fiance and their dogs, his family and friends, watching and playing sports, as well as hiking and camping.
Tyler brings his expertise by ensuring folks are equipped with necessary knowledge and skills to make them more successful in their day to day endeavors.  His invite for Rejuv members is one of hard work, encouragement, personal growth, and laughter!
Tyler will be assisting in the every day duties of managing the gym, overseeing personal training, as well as coaching classes.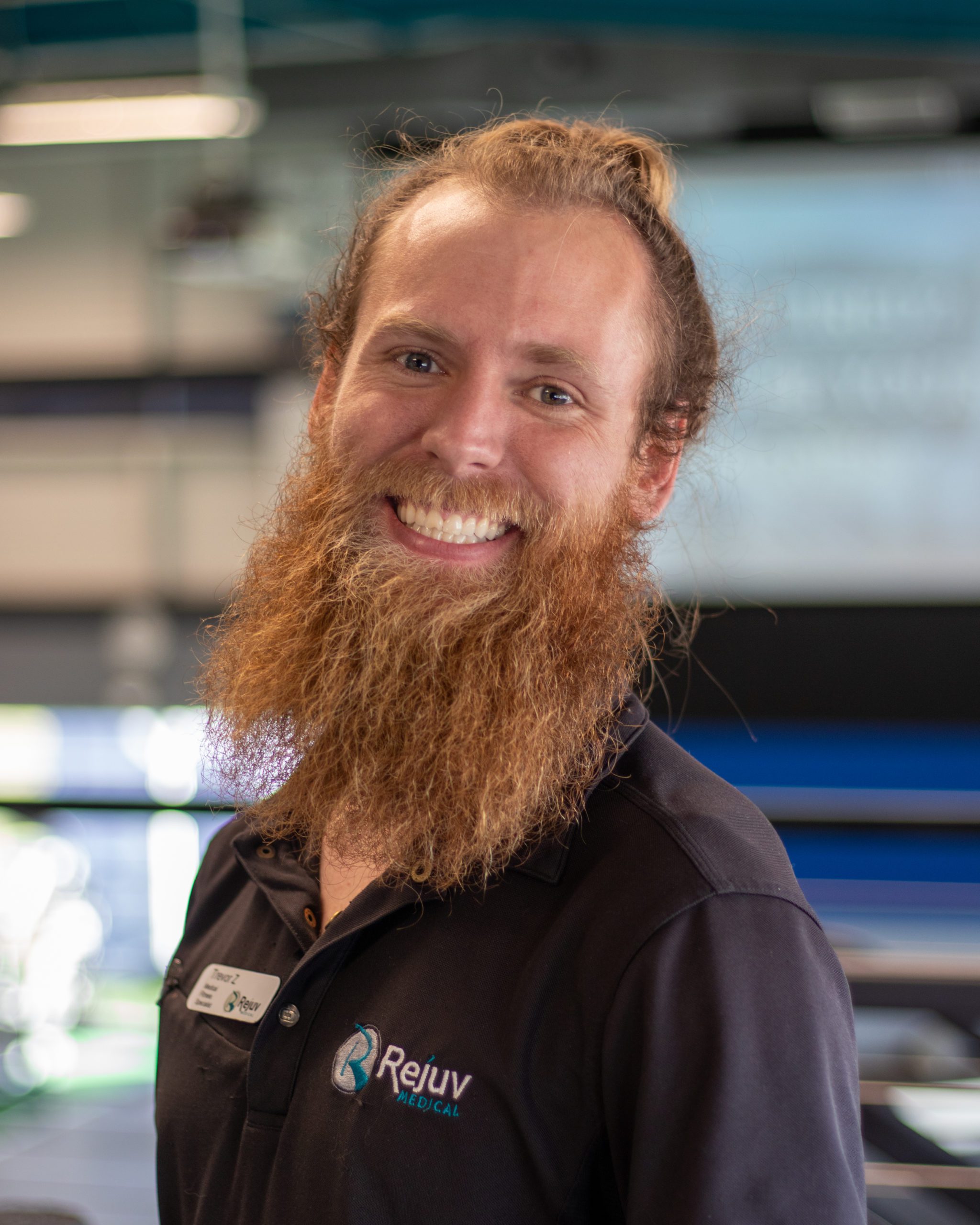 Trevor Ziwicki
Medical Fitness Specialist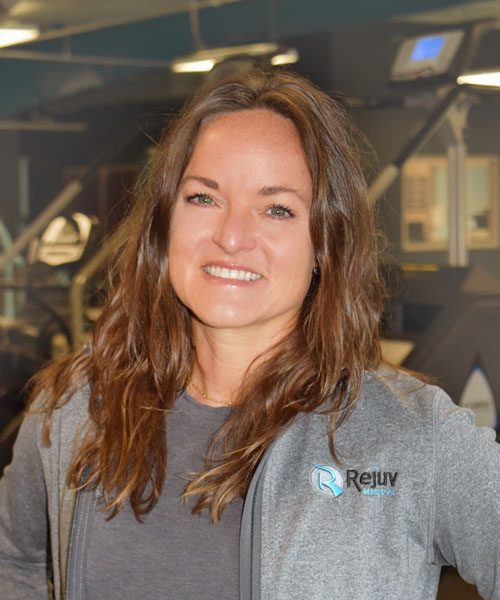 Sara Kohn
Medical Fitness Specialist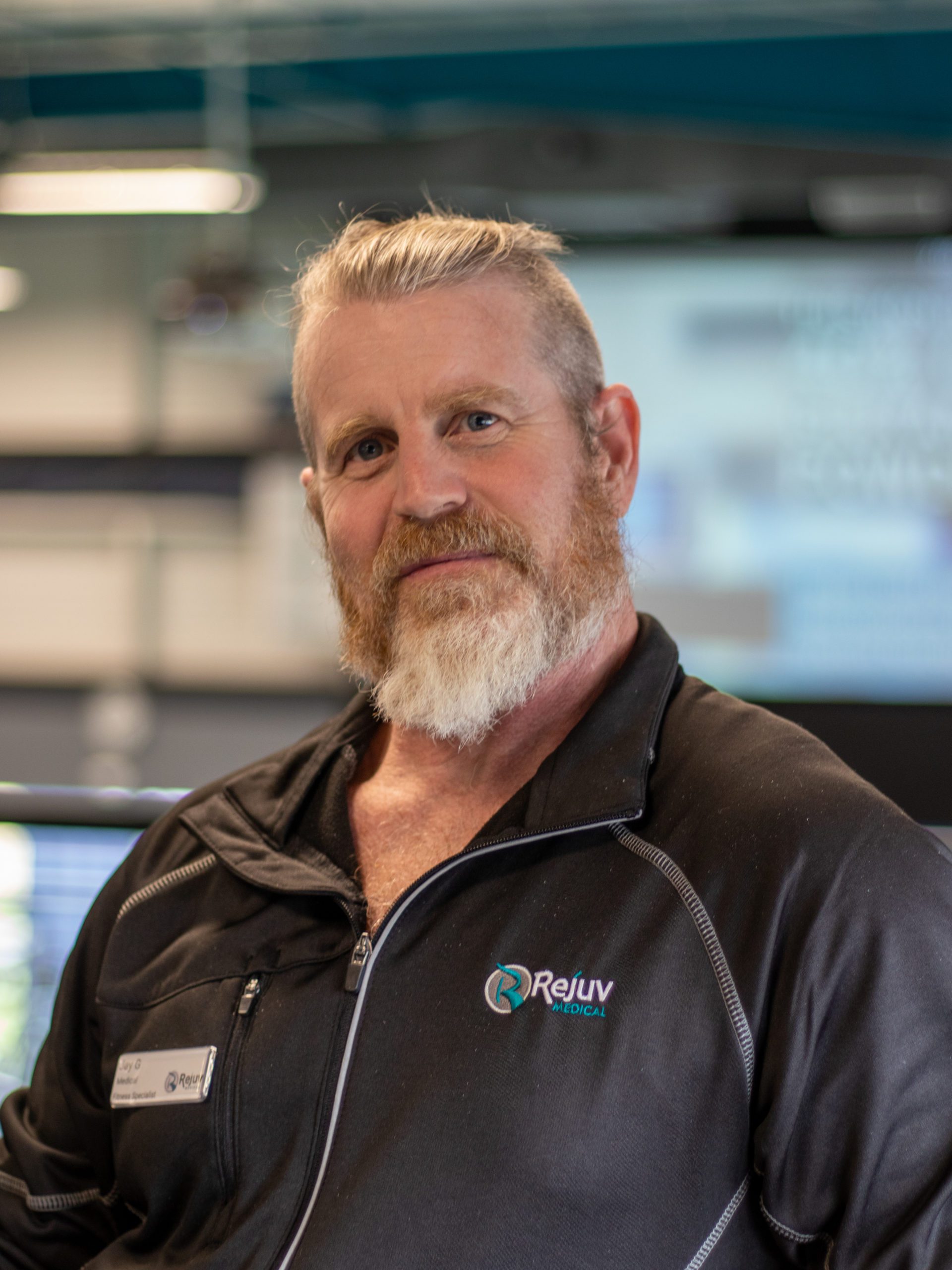 Jay Grove
Medical Fitness Specialist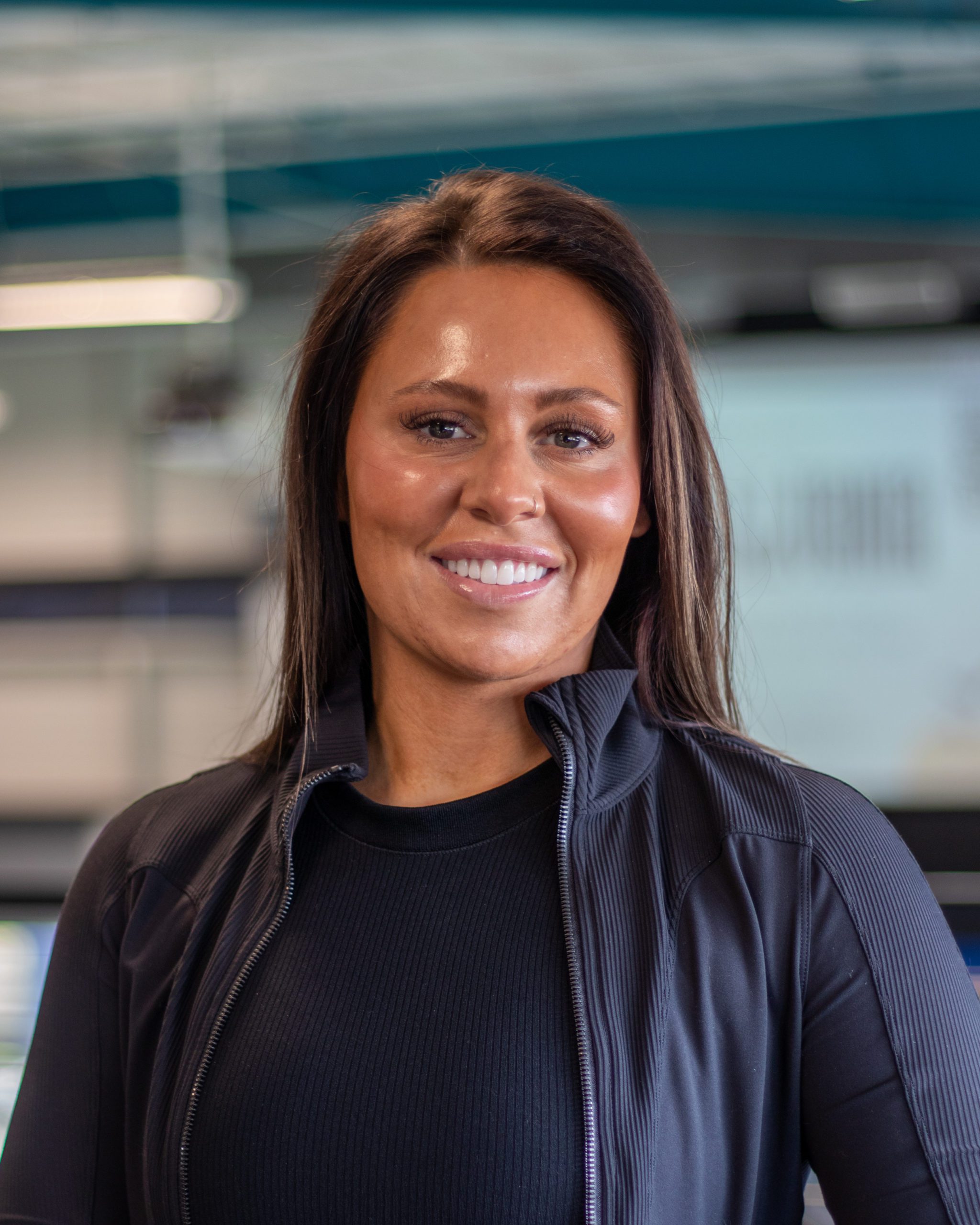 Menley Mantel
Medical Fitness Specialist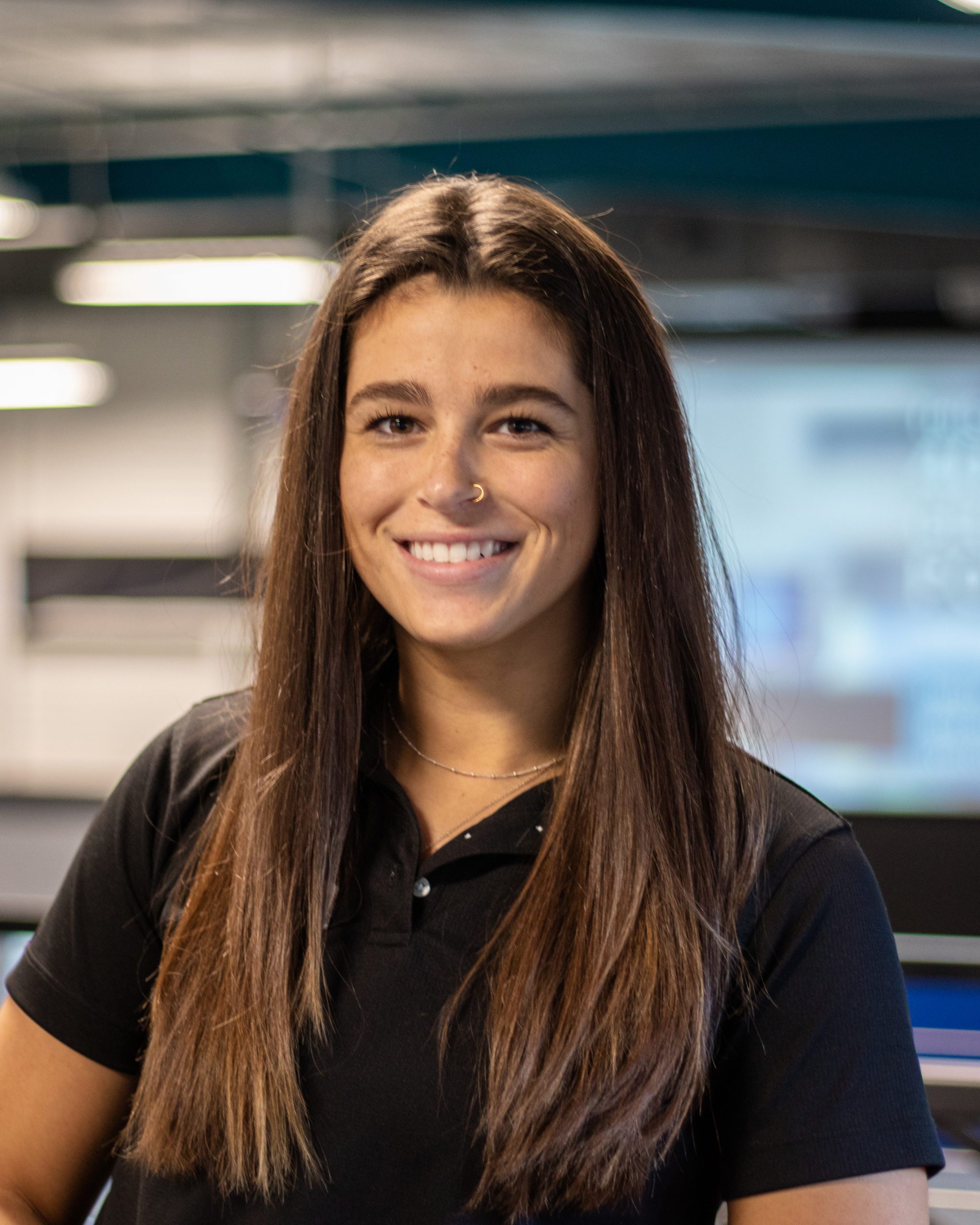 Reeve Kluempke
Medical Fitness Specialist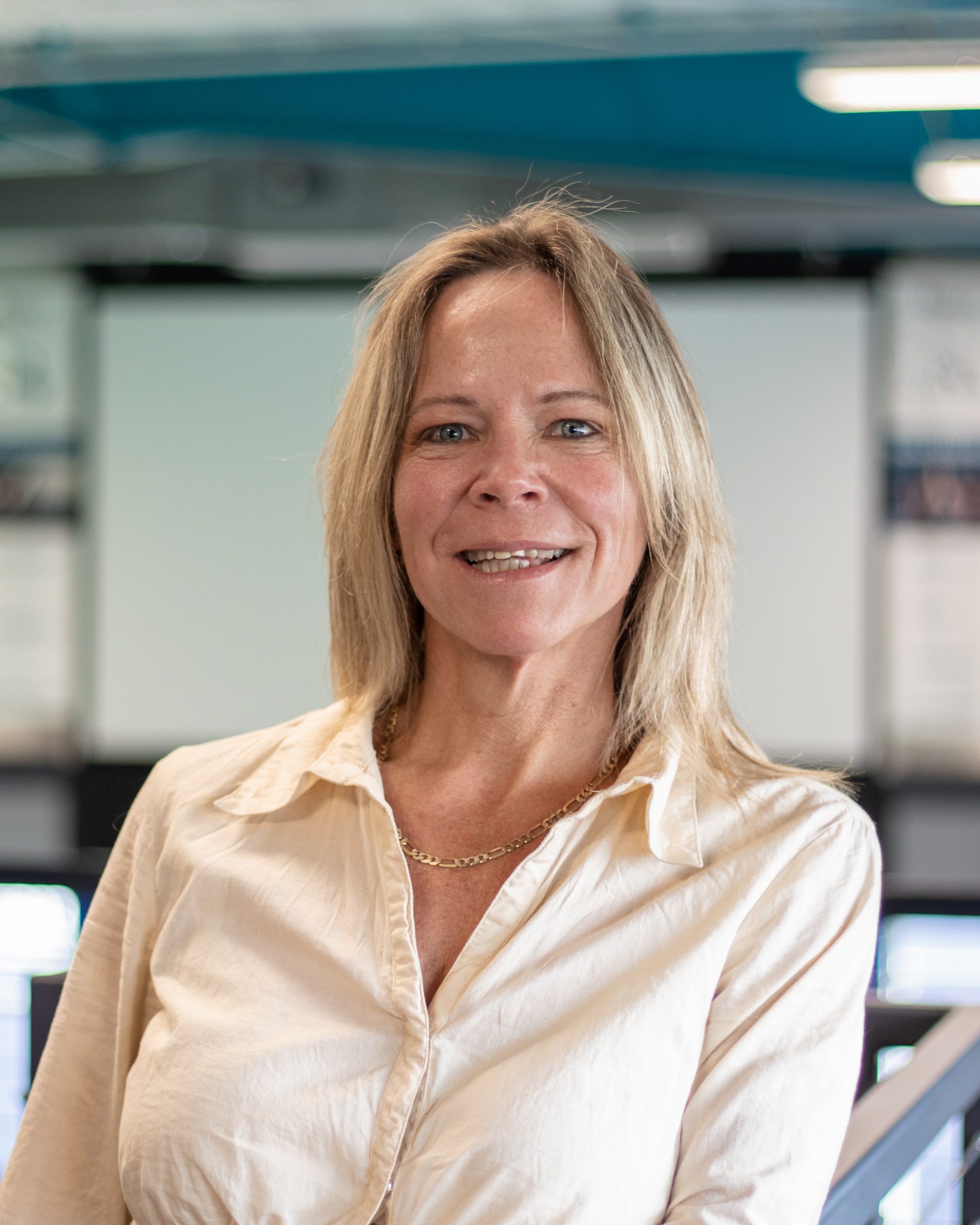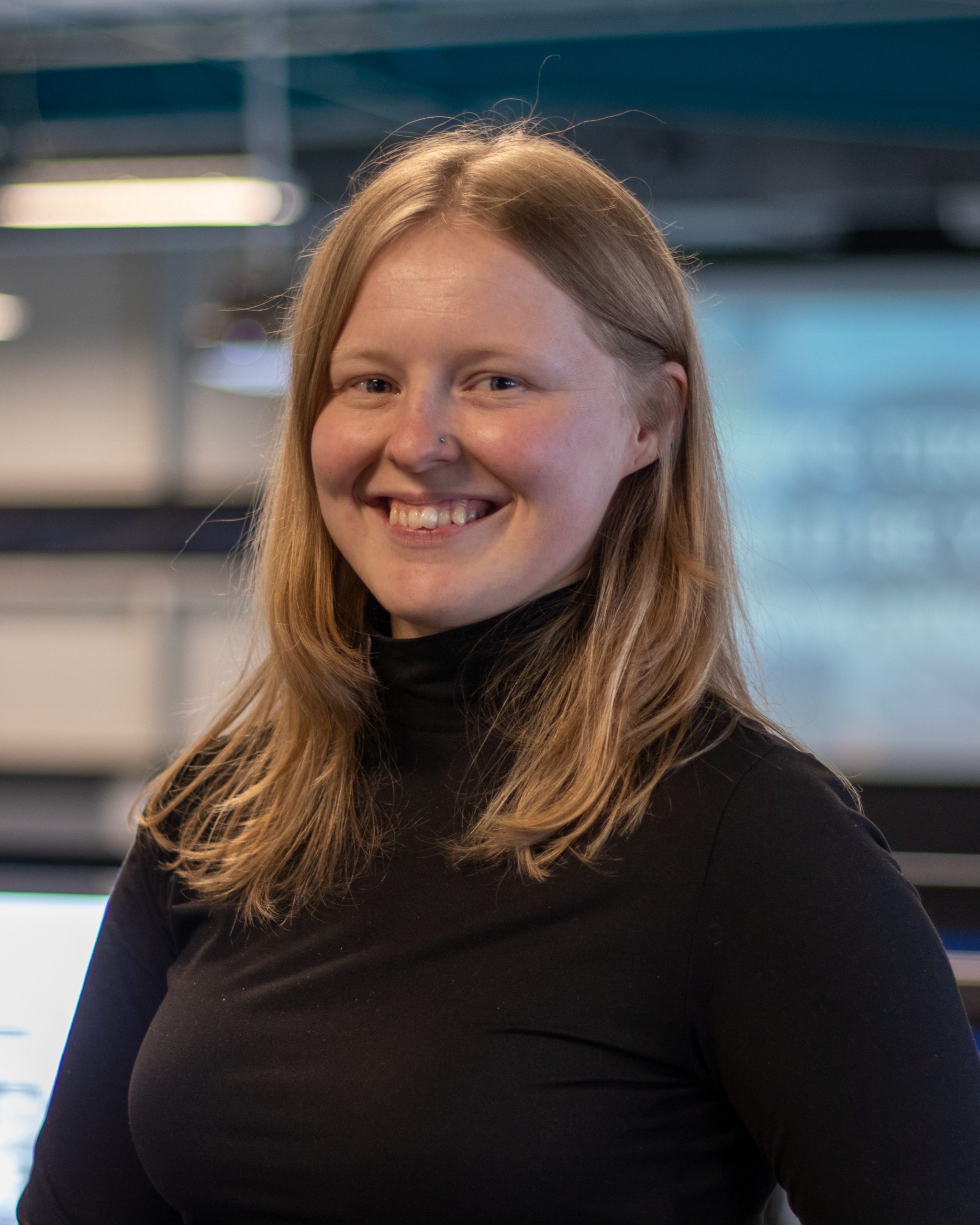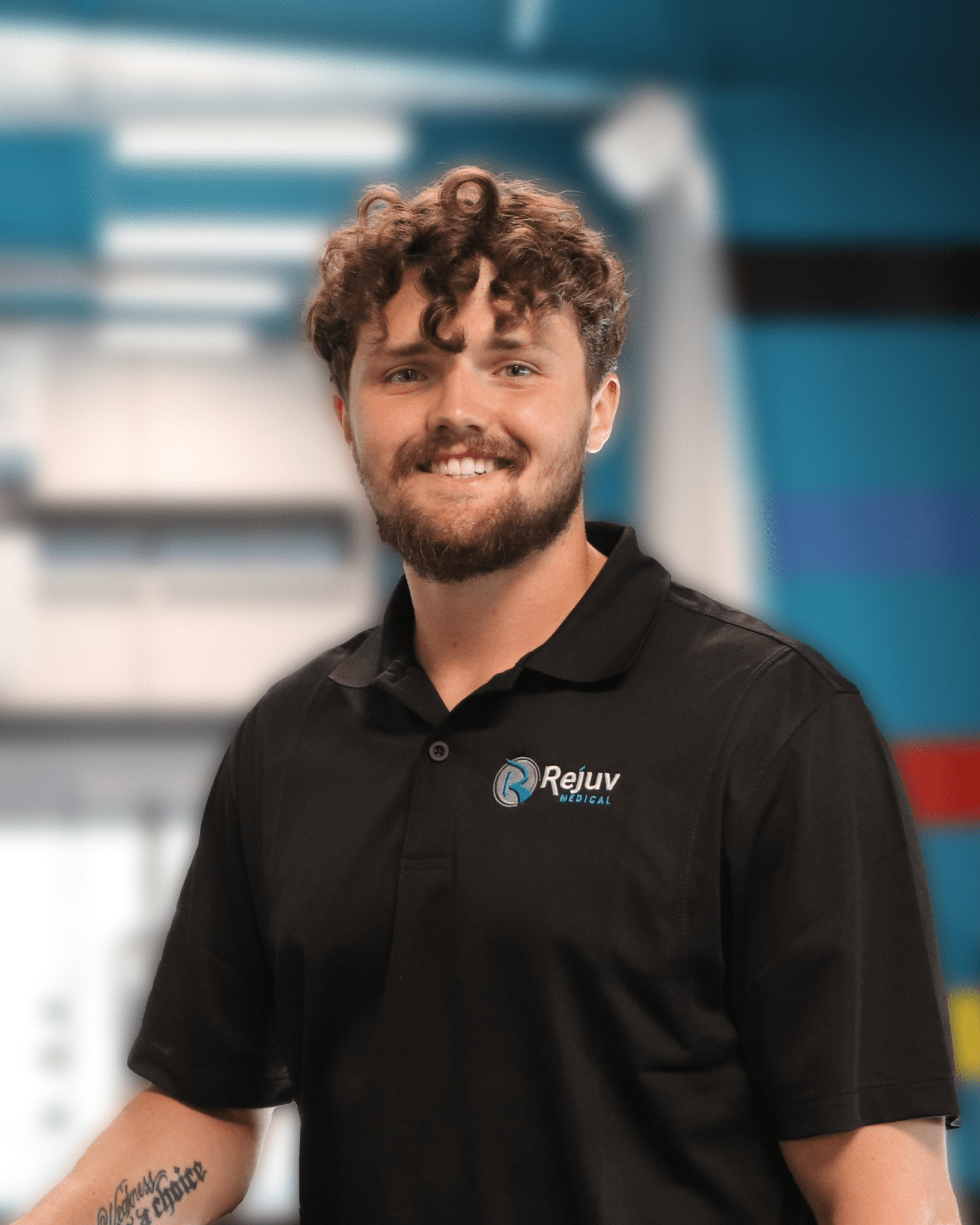 Josh Sletta
Medical Fitness Specialist
View Profile
Meet Josh Sletta, a native of Madelia, MN, who is excited to help individuals achieve their fitness goals. Josh's enthusiasm for exercise and nutrition began during his high school years, where he was a standout three-sport athlete. He earned his Bachelor's Degree in Nutrition from Saint John's University in 2023. During his college years, Josh excelled in both football and track & field with the Johnnies, furthering his athletic career. With experience as a water safety instructor and teaching water aerobics, Josh demonstrates his dedication to fitness and health. Josh also coaches 6th-grade football at Rocori High School in Cold Spring, MN, where he inspires young athletes to reach their full potential. Josh's coaching and teaching have been great ways for him to share his passion for sports nutrition with others, and he looks forward to continuing to inspire and motivate others to live a healthy and active lifestyle
When Josh is not assisting others in achieving their fitness goals, he enjoys spending time with friends, cooking, and working out. He is enthusiastic about experimenting with new recipes and ingredients in the kitchen, always searching for ways to create healthy and tasty meals. Josh is also a devoted fitness enthusiast, engaging in a variety of activities, such as weightlifting, running, and yoga. In his leisure time, he enjoys spending time outdoors, whether it be hiking, camping, or merely going for a walk. Josh believes that a healthy lifestyle encompasses more than just exercise and nutrition – it's about finding balance and doing the things that bring you joy. He is passionate about helping others achieve their goals and looks forward to continuing to inspire and motivate others to live their best lives.
Rafael Alvarez
Medical Fitness Specialist
View Profile
Born and raised in San Salvador, El Salvador, Rafael's journey into fitness began on the soccer field, where he honed his athletic skills and developed a love for competitive sports. After moving to Houston, TX, for high school, Rafael played both high school soccer and competitive club soccer, showcasing his determination, teamwork abilities, and commitment to the sport.
Rafael's passion for fitness and strength training flourished during his time at Saint John's University in Minnesota. While studying for his bachelor's degree in Exercise Health Science, Rafael discovered a new love for bodybuilding. As he transitioned away from competitive soccer, he embraced the challenges and rewards of the bodybuilding style of training, focusing on building muscle, strength, and sculpting his physique.
During his college years, Rafael had the privilege of serving as the Strength and Conditioning intern at the College of Saint Benedict for an impactful year. In this role, he designed and implemented comprehensive strength and conditioning programs for a diverse range of athletes, including those involved in soccer, hockey, tennis, basketball, and volleyball. This experience further deepened his knowledge and practical understanding of effective training methods.
Beyond the gym, Rafael's passion extends to the kitchen, where he embraces the joy of cooking and discovering new, healthy recipes. One of his favorite recipes is his protein pancakes, inspired by renowned bodybuilder Chris Bumstead. These pancakes exemplify Rafael's belief that nutritious meals can be both delicious and exciting. He understands that sustainable fitness goals go hand in hand with a varied and enjoyable diet.
Fluent in both Spanish and English, Rafael excels as a bilingual communicator. This allows him to connect with individuals from different backgrounds and provide personalized guidance to help them achieve their fitness goals. Whether you prefer English or Spanish, Rafael is here to support and guide you on your fitness journey.
While Rafael thrives on working with athletes, he also has a passion for helping individuals with busy schedules achieve weight loss and develop a healthier lifestyle. He empathizes with the challenges people face when balancing work, family, and personal wellness and aims to provide simple yet effective strategies to help them achieve their fitness goals. Rafael firmly believes that exercise and proper nutrition can transform one's life, and he is dedicated to guiding others in developing a healthier relationship with food and physical activity.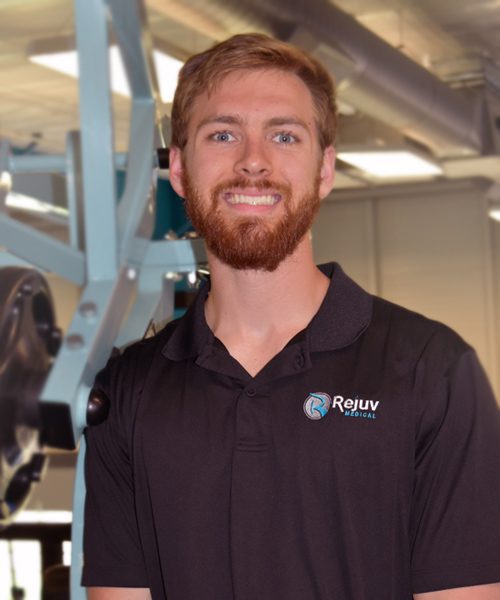 Dylan Maanum
Medical Fitness Specialist
View Profile
Dylan started lifting weights his sophomore year of high school (2015) to get better in the offseason for swimming. He fell in love with training and fitness through swimming and lifting and continued to lift weights after finishing competitive swimming during his time at college. During all his time lifting weights he always tried to learn as much as he could about all aspects of health and fitness. Dylan eventually helped start a club at South Dakota State University called the Jacked Rabbit Lifting Club, where he served as a club mentor and helped other club members with their training and nutrition to help them reach their goals. After graduating, he competed in a bodybuilding competition in 2022, and learned a lot from the process and is excited to potentially compete again in the future.
Dylan's main areas of focus have always been athletic performance (Strength and conditioning) and Hypertrophy (Bodybuilding Training). He love working with athletes to improve their sports performance. Hypertrophy training is his personal favorite way to train because of the tons of different exercise selection and variation, as well as the many different training styles that can be used to achieve a similar goal.
In the past, Dylan used weight and fitness training for his own personal success to become an All-State Swimmer in multiple events during my swimming career in high school, as well as compete in a bodybuilding show. He also use healthy diet choices and exercise to improve my overall quality of life to make me feel the best I possibly can everyday, which I feel is something everyone can achieve!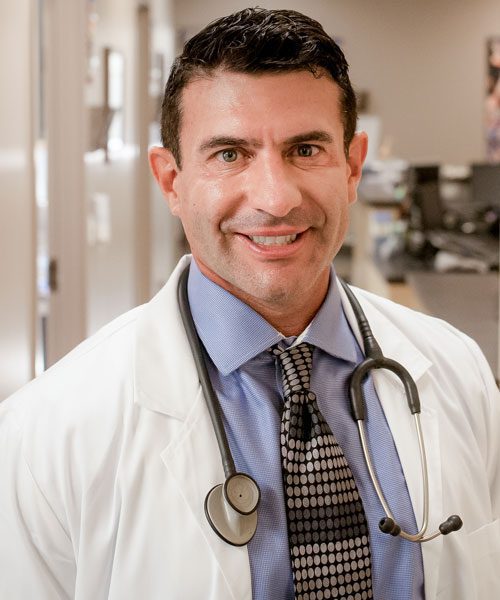 Joel Baumgartner, MD
Founder & Chief Executive Officer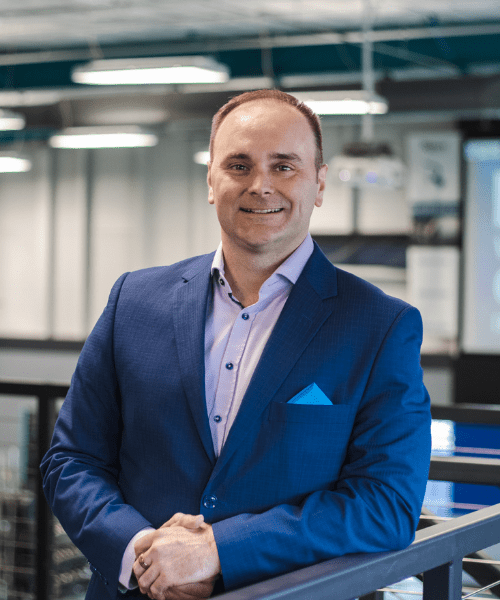 Garrett Ewers
Chief Executive Officer and Vice-President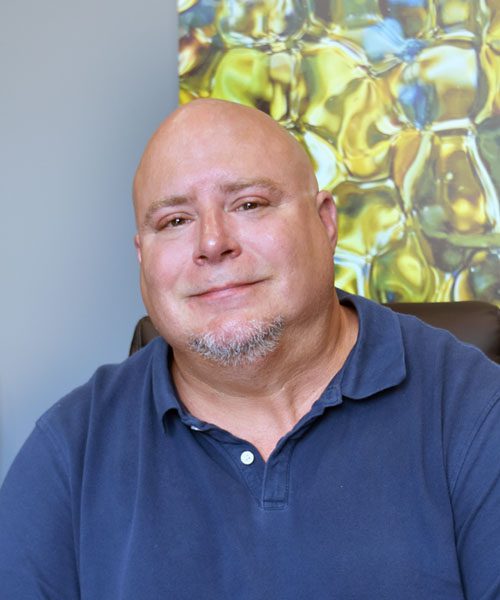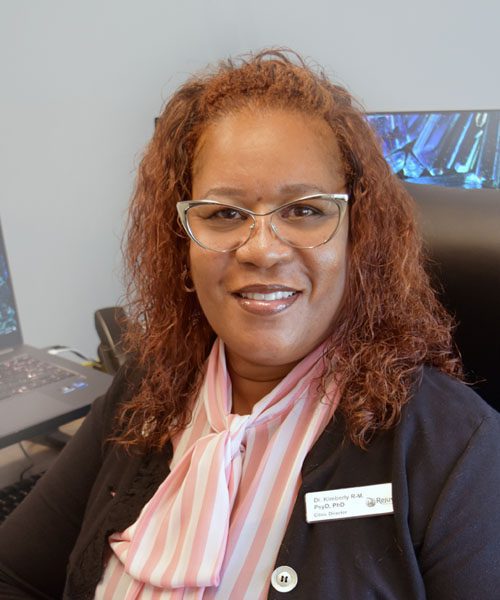 Dr. Kim Russ-McKenzie, PsyD, PhD